That's right baby.  I was able to watch my beloved Atlanta Falcons destroy the San Francisco 49ers this weekend 45 – 10.  Check out NFL.com for game highlights.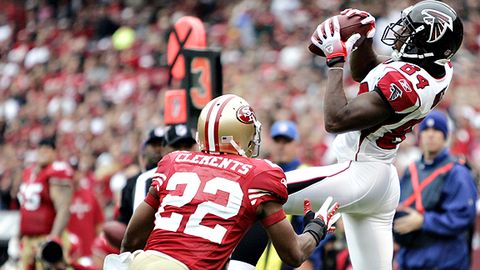 This trip to San Francisco was planned about a month ago and the highlight was going to be this game.  I have been to a few different NFL stadiums (Raymond James, Alltel/Jacksonville Municipal, and Superdome) but I have never been in an NFL stadium, other than the Georgia Dome, watching an NFL team play.  I was really excited even though I was informed of the horrible characteristics that were used to describe Candlestick Park.  Horrible neighborhood.  Worst NFL Stadium.  Surly the local SF residents were exaggerating just a bit.
…..Or not.  I must state that Candlestick Park is really one of the worst stadiums I have ever been to or seen.  This includes all sports (baseball, basketball, hockey, etc.).  Sure the area was terrible.  That's where you build stadiums because the property taxes are low and you have fewer people of "power" to complain about adding a new monstrosity.  But this stadium was/is in need of several improvements.  Heck, you pay a few hundred people and a new coat of paint would improve it drastically.  It worked for the Georgia Dome to go from this to this.
Once inside the stadium it did not get any better.  I believe the seats used inside the stadium are the same rusty seats ripped from any youngster's early childhood memories of the local sandlot.  I think I could have gotten Hepatitis if I turned the wrong way in my seat.  I also must state that I'm never a fan of combination stadiums (i.e. baseball and football).  They just don't work effectively in my eyes.
Enough about the stadium.  My pictures speak for themselves.  On to the fans and the game.
The fans were pure 49ers, early 80's magic.  Walking through the tailgating area made me feel that I was a young punk during the 80's but without a cool windbreaker jacket.  Maybe it was the throwback jerseys that I saw.  Maybe it was the atmosphere with the old stadium, but I truly felt like I took a step back in time.  I could easily pick out the fans of the dirty birds because they at least looked updated.
The 49ers fans that actually spoke to me (before the game started of course) were really great.  They loved to perform the normal trash talking that was expected.  I even had a group of 49ers fans with a fully eaten chicken bone telling me that this was the way they expected their dirty birds. It's a shame I couldn't find them 15 minutes into the game.
Overall, the trip to SF was great because I was able to see May (the true reason for going) and my Falcons truly put together a great game on all sides of the ball.
Go birds and I'll see you again in Atlanta vs Da Bears.
Posted under
Sports